Home > IVR > IVRS
IVRS
Interactive Voice Response Systems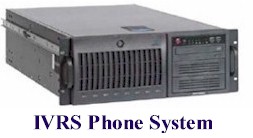 Database Systems Corp. (DSC) supplies IVR (Interactive Voice Response Systems) solutions as well as call processing outsourced programs for a number of application clients throughou the U.S. and Canada. DSC provides computer telephony products and services for a wide variety of industries and government organizations.
DSC provides interactive voice response systems (IVRS) that process incoming phone calls and handle call transactions. This could include accessing database information and providing information to the caller. IVRS can also route calls using intelligent rules based routing to phone agents and representatives.
DSC interactive voice response systems process calls in a quick and efficient manner. IVR scripts can be developed that can process virtually any type of call applications.
IVR systems can likewise be used with outbound calling campaigns. As the calls are made and the recipient answers the call, an IVR script can be played which gives the individual the option to make phone keypad selections. This technique is refered to as Outbound IVR and the system that makes these calls is refered to as an Outbound IVRS.
The DSC PACER interactive voice response system supports multiple digital T1s connected to these phone systems. The capacity of these systems ranges from 24 to nearly a 1000 phone lines per system. These systems can be networked to provide call capacity for virtually any sized call center or phone answering center.
IVRS applications can be created on different servers that control the flow of information and the transfer of inbound calls.
IVRS Information Websites
The following websites contain information about IVRS technology and phone systems.
IVRS Technical Websites